【Model】Q3
【Item】Android Handheld POS Terminal
【Disclaimer】
Please refer to the material object. The right of interpretation of this document is vested in our company.We reserve the right to amend this instruction without prior notice.

【Application】
 Mobile ordering, digital payment, electronic voucher exchange, receipt printing, transportation, hotels, restaurants, etc.
 【Packing Contents】
1. Q3/Q3PROx1Unit
2. User Manualx1
3. Power Adapterx1
【Parameter List】
Operating System

Android 6.0

CPU

Quad core

Ram

1G/2GB(optional)

Flash

8GB Nand Flash/16GB(optional)

Display

5.5 HD screen 1280*720 Resolution

Touch

Capacitive Multi-Touch

Camera

5MP

Network

GSM:800/900//1800 WCDMA:B1/B2/B5

GPS+AGPS

Bluetooth

Bluetooth 4.0

Wifi

Wi-Fi 802.11b/g/n protocol

Speaker

1W Single Channel

Microphone

MIC input

Button

Power Button

I/O

Charging Socket,USB,SIM slot

Battery

7.4V/500mah

Printer

58mm

Printing speed

Printing speed 5mm/s

Work life

Work life 50km

Paper Roll

Max Diameter 50mm

Power Adapter

Input:100-240V/1.5A 50/90Hz Output:12V/5A

Dimension

209.2mm(L)x87.4mm(W)x51.7(H)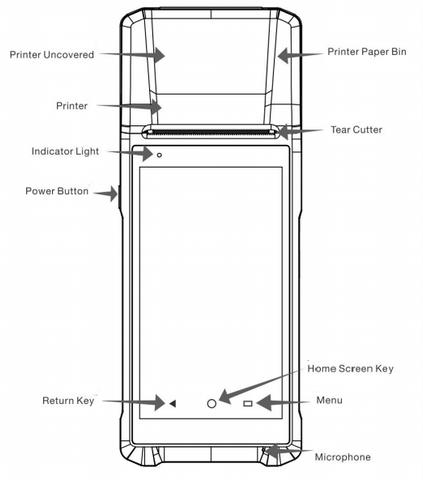 【Power Button】
Short Press: Turn-on Screen/Turn-off & Lock Screen.
Hold Down: Hold down the power button 3-5 seconds to power on the Q3/Q3PRO/Shut down or restart the Q3/Q3PRO.
Note: If the machine hanged or no response please hold down the power button for 10 seconds to restart.
【Return Key】
Return to previous operator interface.
【Main Screen Key】
Hide all windows and show the main screen.
【Menu Key】
Have a quick view and get list of the operating Apps. You can choose or close the Apps.

【Charge Socket】
External diameter: 3.5mm, internal diameter:1.35mm. Input: 12V/1.0A.
The Q3/Q3PRO supports power charge by this socket only do not support charge by USB.When power charging screen would show the battery charging logo.If you do not get this logo after you connect the power adapter, please check all connections carefully Warning:Charging by Non Specified power adapter is forbidden.
【Phone Out】
This socket allows you to connect an earphone or external loudspeaker.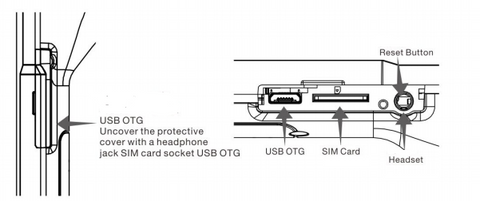 【SIM Card Slot】
Supports micro-card, 4G/3G network.
Warning: Please shut down the Q3/Q3PRO before insert SIM card, otherwise the card slot would be damaged.
【Camera】
5000000 Pixel fixed focus camera.
Supports mobile phone scavenging payment and 2D code scanned. 15CM is the best distance.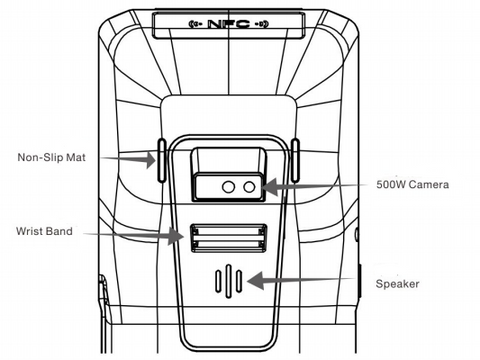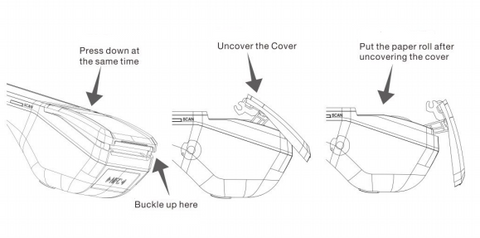 【Receipt Printer】
This is the 58mm high speed Thermal Receipt Printer,which supports label print. Paper diameter is 57x50mm.
To change paper, please open the paper cover, put in the thermal paper or thermal label, keeps a small part of paper out of the paper slot and close the paper cover.
【Settings】
The setting of Q3/Q3PRO is similar to our mobile phone.
1.4G/3G setting: Please shut down the machine first open the cover at the right side, insert the Micro SIM card and close the cover. Turn on the Q3/Q3PRO and the O/S will recognize the SIM card directly.
WIFI setting: Enter the setting menu,turn on WLAN and get into the WLAN setting choose the connection and input the password. After verification the connection can be used.
【Common Trouble Shooting】
1.Printer not working
Please ensure the paper cover is closed well &whether the paper has been stretched out through the paper cutter.
If paper feed normally but print nothing please check whether the paper put in the opposite directions.
2.Touch incorrectly
Enter the setting menu, choose"Display"sub menu and calibrate the touch in Touch Screen section.