Smart NFT Display Electronic Picture Frame Digital Photo Frame
Contact Us
【Item】NFT Display Electronic Picture Frame Digital Photo Frame
【Size】8"/9.7"/10.1"/"15"/15.6"

【Material】ABS Plastic or Wooden Frame
【Notice】
Please contact us if you need other specifications.
Payment terms: Samples 100% payment in advance, bulk order 30% deposit, 70% payment before shipment. Sample order accepted.
Sample delivery time is 7 working days after payment received for bulk order, shipping time is negotiated.
The shipping fees should covered by buyers, please contact us for details.
Provide service: OEM&ODM service for batch orders to print logo and design box etc.
Warranty: One year.
Product Configurations
WF805T & WF805TW
WF805T
Product Size: 22*15.5*2.3 CM
Unit Size: 29.5*20.5*6 CM
Unit Weight: 0.6 KG
Carton Size: 60*32.3*43.5 CM
N.W.: 12 KG
G.W.: 13.5 KG
Quantity: 20 PCS/CTN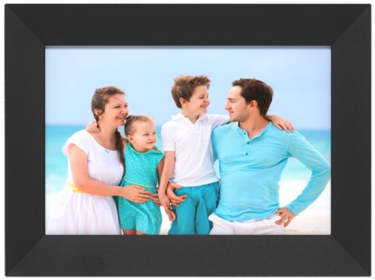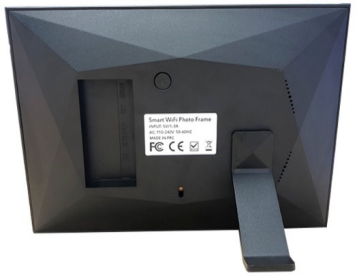 WF805TW: Wooden frame
Product Size: 24.8*18.4*2.7 CM
Unit Size: 37.5*24*5.5 CM
Unit Weight: 0.8 KG
Carton Size: 49*37*45 CM
N.W.: 13 KG
G.W.: 14KG
Quantity: 16 PCS/CTN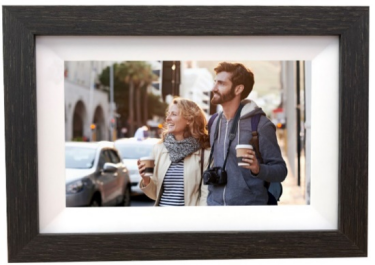 | | |
| --- | --- |
| Screen | 8 Inch IPS-LCD Screen |
| Color | Black |
| Contrast | 500:1 |
| Brighless | 250 cd/m2 |
| Frame Material | ABS Plastic, Touch Panel(10 Point Touch) |
| Frame Software | Frameo |
| Solution(Chipset) | Rockchip RK3126, Quad-core Cortex-A7 up to 1.2GHz, RAM 1G, ROM 16G |
| Memory Card | Micro SD(TF Card), MAX 32GB |
| Operating System | Android 6.0.1 |
| Wi-Fi  | 2.4GHz, |
| Built-in Speaker | 2*2W |
| USB Port | Micro USB |
| Adapter Spec | DC 5V/2A, 2.5*10.5 MM, 1.2M Adapter Cable |
| OSD Language | Bulgarian, Chinese, Croatian, Czech, Danish, Dutch, English, Finnish, French, German, Hungarian, Hebrew, Italian, Japanese, Norwegian, Polish, Portuguese, Vietnamese, Slovak, Spanish, Swedish, etc. |
| Photo Format | JPEG, BMP, GIF, PNG, etc. |
| Video Format | MPEG-1, MPEG-2, MPEG-4, H.263, H.264, VC1, RV etc. Support up to FHD 1080P. |
| Adapter type | UK Plug, US Plug, EU Plug, AU Plug |
| Accessories | Use Manual, Adapter, Bracket |
| Certification | FCC, ce, RoHS |
| Resolution | 1280*800 |
| Aspect Ratio | 16:10 |
| Display Area | 17.3*10.8 CM |
WF105T & WF105TW
WF105T
Product Size: 26.4*18.4*2.3 CM
Unit Size: 35*21.3*5.5 CM
Unit Weight: 0.8 KG
Carton Size: 49*37*45 CM
N.W.: 13 KG
G.W.: 14KG
Quantity: 16 PCS/CTN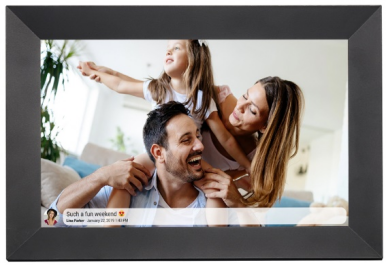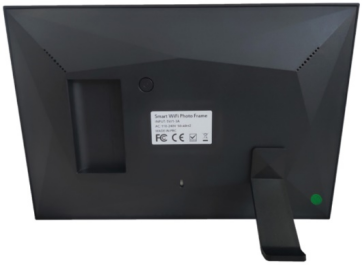 WF105TW: Wooden frame
Product Size: 29.4*21.3*2.7 CM
Unit Size: 37.7*24.2*5.7CM
Unit Weight: 1 KG
Carton Size: 41*31*53 CM
N.W.: 10 KG
G.W.: 11 KG
Quantity: 10 PCS/CTN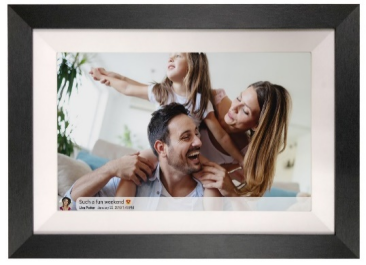 | | |
| --- | --- |
| Screen  | 10.1 Inch IPS-LCD Screen |
| Color | Black |
| Contrast | 500:1 |
| Brighless | 250 cd/m2 |
| Frame Material | ABS Plastic, Touch Panel(10 Point Touch) |
| Frame Software | Frameo |
| Solution(Chipset) | Rockchip RK3126, Quad-core Cortex-A7 up to 1.2GHz, RAM 1G, ROM 16G |
| Operating System | Android 6.0.1 |
| Wi-Fi  | 2.4GHz, |
| Built-in Speaker | 2*2W |
| Memory Card | Micro SD(TF Card), MAX 32GB |
| USB Port | Micro USB |
| OSD Language | Bulgarian, Chinese, Croatian, Czech, Danish, Dutch, English, Finnish, French, German, Hungarian, Hebrew, Italian, Japanese, Norwegian, Polish, Portuguese, Vietnamese, Slovak, Spanish, Swedish, etc. |
| Photo Format | JPEG, BMP, GIF, PNG, etc. |
| Video Format | MPEG-1, MPEG-2, MPEG-4, H.263, H.264, VC1, RV etc. Support up to FHD 1080P. |
| Adapter type | UK Plug, US Plug, EU Plug, AU Plug |
| Adapter Spec | DC 5V/2A, 2.5*10.5 MM, 1.2M Adapter Cable |
| Accessories | Use Manual, Adapter, Bracket |
| Certification | FCC, ce, RoHS |
| Resolution | 1280*800 |
| Aspect Ratio | 16: 10 |
| Display Area | 21.6*13.5 CM |
WF103T & WF103TW
WF103T
Product Size: 26.4*18.2*2.8 CM
Unit Size: 37.5*24*5.5 CM
Unit Weight: 0.8 KG
Carton Size: 49*37*45 CM
N.W.: 13 KG
G.W.: 14KG
Quantity: 16 PCS/CTN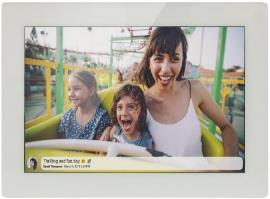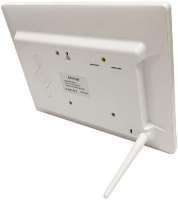 WF103TW: Wooden frame
Product Size: 28.3*20.2*3.3 CM
Unit Size: 37.7*24.2*5.7CM
Unit Weight: 1 KG
Carton Size: 41*31*53 CM
N.W.: 10 KG
G.W.: 11 KG
Quantity: 10 PCS/CTN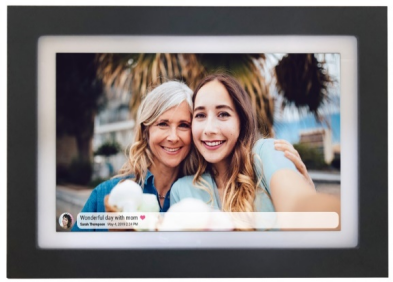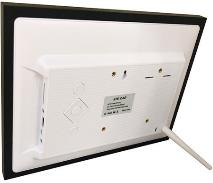 | | |
| --- | --- |
| Screen | 10.1 Inch IPS-LCD Screen |
| Color | Black |
| Contrast | 500:1 |
| Brighless | 250 cd/m2 |
| Frame Material | ABS Plastic, Touch Panel(10 Point Touch) |
| Frame Software | Frameo |
| Solution(Chipset) | Rockchip RK3126, Quad-core Cortex-A7 up to 1.2GHz, RAM 1G, ROM 16G |
| Operating System | Android 6.0.1 |
| Wi-Fi  | 2.4GHz, |
| Built-in Speaker | 2*2W |
| Memory Card | SD/MS/MMC/SDHC, MAX 32GB |
| USB Port | Mini USB & USB 2.0 |
| OSD Language | Bulgarian, Chinese, Croatian, Czech, Danish, Dutch, English, Finnish, French, German, Hungarian, Hebrew, Italian, Japanese, Norwegian, Polish, Portuguese, Vietnamese, Slovak, Spanish, Swedish, etc. |
| Photo Format | JPEG, BMP, GIF, PNG, etc. |
| Video Format | MPEG-1, MPEG-2, MPEG-4, H.263, H.264, VC1, RV etc. Support up to FHD 1080P. |
| Adapter type | UK Plug, US Plug, EU Plug, AU Plug |
| Adapter Spec | DC 5V/2A, 4.0*10.5 MM, 1.2M Adapter Cable |
| Accessories | Use Manual, Adapter, Bracket |
| Certification | FCC, ce, RoHS |
| Resolution | 1280*800 |
| Aspect Ratio | 16:10 |
| Display Area | 21.6*13.5 CM |
WF106T & WF106TW
WF106T
Product Size: 26.4*18.2*2.8 CM
Unit Size: 35*21*5.5 CM
Unit Weight: 0.8 KG
Carton Size: 48.6*36.8*44.5 CM
N.W.: 13 KG
G.W.: 14 KG
Quantity: 16 PCS/CTN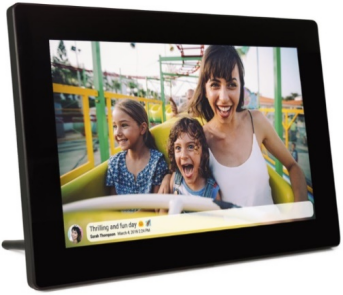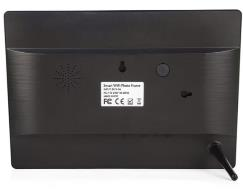 WF106TW: Wooden frame
Product Size: 28.3*20.2*3.3 CM
Unit Size: 37.5*24*5.5 CM
Unit Weight: 1 KG
Carton Size: 39.5*29.5*50.5 CM
N.W.: 10 KG
G.W.: 11 KG
Quantity: 10 PCS/CTN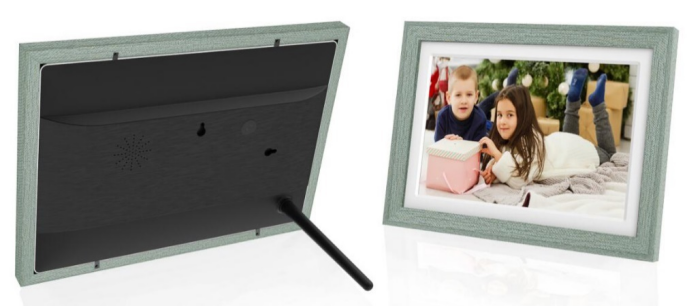 | | |
| --- | --- |
| Screen | 10.1 Inch IPS-LCD Screen |
| Color | Black |
| Contrast | 500:1 |
| Brighless | 250 cd/m2 |
| Frame Material | ABS Plastic, Touch Panel(10 Point Touch) |
| Frame Software | Frameo |
| Solution(Chipset) | Rockchip RK3126C, Quad-core Cortex-A7 up to 1.2GHz, RAM 1G, ROM 16G |
| Operating System | Android 6.0.1 |
| Wi-Fi  | 2.4GHz, |
| Built-in Speaker | 2*2W |
| Memory Card | Micro SD(TF Card), MAX 32GB |
| USB Port | Mini USB & USB 2.0 |
| Adapter Spec | DC 5V/2A, 4.0*10.5 MM, 1.2M Adapter Cable |
| OSD Language | Bulgarian, Chinese, Croatian, Czech, Danish, Dutch, English, Finnish, French, German, Hungarian, Hebrew, Italian, Japanese, Norwegian, Polish, Portuguese, Vietnamese, Slovak, Spanish, Swedish, etc. |
| Photo Format | JPEG, BMP, GIF, PNG, etc. |
| Video Format | MPEG-1, MPEG-2, MPEG-4, H.263, H.264, VC1, RV etc. Support up to FHD 1080P. |
| Adapter type | UK Plug, US Plug, EU Plug, AU Plug |
| Accessories | Use Manual, Adapter, Bracket |
| Certification | FCC, ce, RoHS |
| Resolution | 1280*800 |
| Aspect Ratio | 16:10 |
| Display Area | 21.7*13.6 CM |
WF971T & WF971TW
WF971T: 2K screen
Product Size: 24.5*19.6*2.3 CM
Unit Size: 35*21*5.5 CM
Unit Weight: 0.9 KG
Carton Size: 36.8*29.8*44.5 CM
N.W.: 9 KG
G.W.: 10 KG
Quantity: 10 PCS/CTN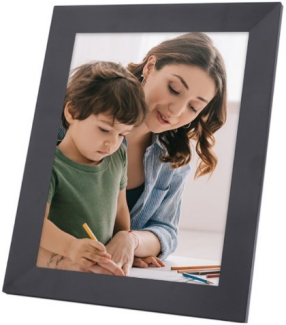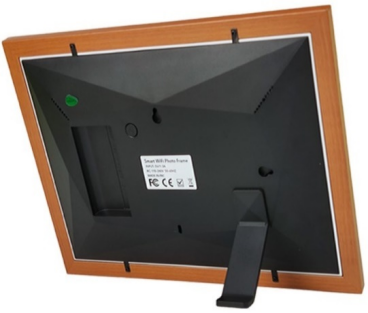 WF971TW: 2K Screen with wooden frame
Product Size: 27.3*22.4*2.7 CM
Quantity: 10 PCS/CTN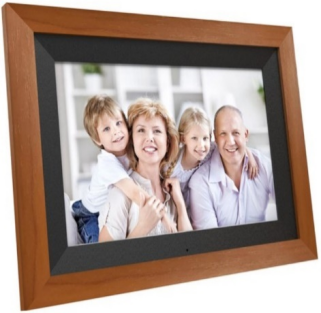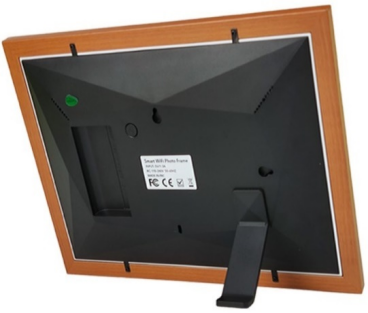 | | |
| --- | --- |
| Screen | 9.7 Inch IPS-LCD Screen |
| Color | Black |
| Contrast | 1000:1 |
| Brightness | 300 cd/m2 |
| Frame Material | ABS Plastic, Touch Panel(10 Point Touch) |
| Frame Software | Frameo |
| Solution(Chipset) | Rockchip RK3126C, Quad-core Cortex-A7 up to 1.2GHz, RAM 1G, ROM 16G |
| Memory Card | Micro SD(TF Card), MAX 32GB |
| Operating System | Android 6.0.1 |
| Wi-Fi  | 2.4GHz, 802.11b/g/n |
| Built-in Speaker | 2*2W |
| USB Port | Micro USB |
| Adapter Spec | DC 5V/2A, 2.5*10.5 MM, 1.2M Adapter Cable |
| OSD Language | Bulgarian, Chinese, Croatian, Czech, Danish, Dutch, English, Finnish, French, German, Hungarian, Hebrew, Italian, Japanese, Norwegian, Polish, Portuguese, Vietnamese, Slovak, Spanish, Swedish, etc. |
| Photo Format | JPEG, BMP, GIF, PNG, etc. |
| Video Format | MPEG-1, MPEG-2, MPEG-4, H.263, H.264, VC1, RV etc. Support up to FHD 1080P. |
| Adapter type | UK Plug, US Plug, EU Plug, AU Plug |
| Accessories | Use Manual, Adapter, Bracket |
| Certification | FCC, ce, RoHS |
| Resolution | 1536*2048 |
| Aspect Ratio | 4:3 |
| Display Area | 19.7*14.8 CM |
WF1501T
WF1501T: Square screen
Product Size: 35.9*28.3*3.6 CM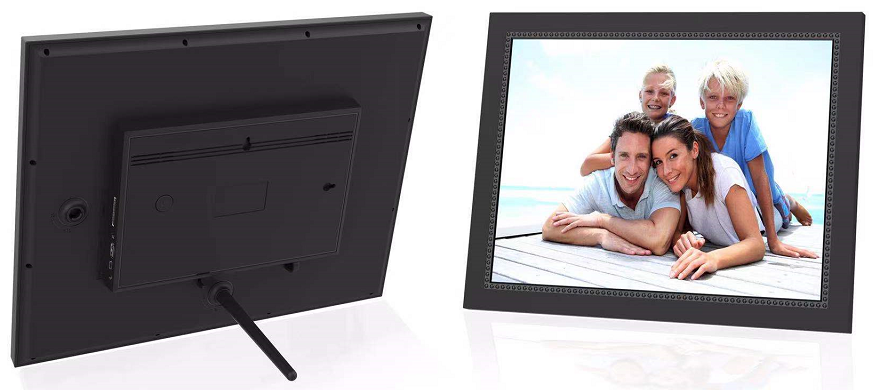 | | |
| --- | --- |
| Screen | 15 Inch IPS-LCD Screen |
| Color | Black, White, others |
| Contrast | 1000:1 |
| Brighless | 250 cd/m2 |
| Frame Material | ABS Plastic, Touch Panel(10 Point Touch) |
| Frame Software | Frameo |
| Solution(Chipset) | Rockchip RK3128, Quad-core Cortex-A7 up to 1.2GHz, RAM 1G, ROM 16G |
| Operating System | Android 6.0.1 |
| Wi-Fi  | 2.4GHz, |
| Built-in Speaker | 2*2W |
| Memory Card | SD/MS/MMC/SDHC, MAX 32GB |
| USB Port | Mini USB & USB 2.0 |
| Adapter Spec | AC 100 to 240V, DC 5V/3A, 4.0*10.5 MM |
| Accessories | Use Manual, Adapter, Bracket |
| Resolution | 1024*768 |
| Aspect Ratio | 4:3 |
| Display Area | 30.4*22.8 CM |
WF1562T
WF1562T: NEW ITEM
Product Size: 39.1*24.5*2.8


| | |
| --- | --- |
| Screen | 15.6 Inch IPS-LCD Screen |
| Color | Black, White, others |
| Contrast | 1000:1 |
| Brighless | 250 cd/m2 |
| Frame Material | ABS Plastic, Touch Panel(10 Point Touch) |
| Frame Software | Frameo |
| Solution(Chipset) | Rockchip RK3566, Quad-core Cortex-A55 up to 1.8GHz, RAM 2G, ROM 16G |
| Operating System | Android 12 |
| Wi-Fi  | 2.4GHz, 802.11b/g/n |
| Built-in Speaker | 2*2W |
| Memory Card | SD/MS/MMC/SDHC, MAX 32GB |
| USB Port | Mini USB & USB 2.0 |
| Adapter Spec | AC 100 to 240V, DC 12V/2A, 4.0*10.5 MM |
| Accessories | Use Manual, Adapter, Bracket |
| Resolution | 1920*1080 |
| Aspect Ratio | 16:9 |
| Display Area | 34.5*19.4 CM |
Contact Us